LOGO GOLF BALLS
Q. What's the best size of the logo, for logo imprinting ?
Ans. 1/2" ~ 3/4" diameter.
In order to make a sharp logo imprinted on the round curved surface with dimples on it, 3/4" diameter logo will have the best result. The maximum size can go upto 1 1/16" but the result is not as good as 3/4" one.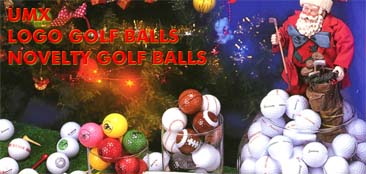 Some customer want to imprint their logo all the way around the golf balls, this kind of imprinting called "wrap imprinting". The wrap imprinting will have a different rate to count the imprinting charge depends on your logo's size, colors and art works. Send a sample of your logo to us, we will estimate the cost for you.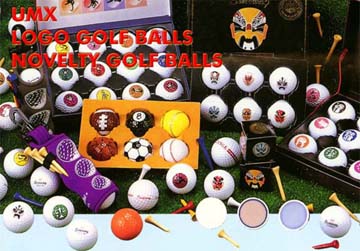 We provide the high quality logo golf balls for your business, your customer or your personal memorial. We do logo imprinting for your golf balls at affordable cost.
Main Menu - Golf Balls and Golf Supplies
Order Hot Line Call: 1- (800) 921-5523

Contact UMX: info@umei.com