Wholesale Beads Catalogue: Engraved Wood, Wooden, Love-Heart, Pumpkin, Metal and Clear Plastic Glass Beads.
We manufacture beads for wholesale bead shops. You can shop our engraved wooden beads, clear plastic glass beads, love-heart plastic beads, pumpkin beads and metal beads to make bead crafts, patterns, necklace or beaded handbags.
< click to enlarge picture >
HOME, Main Menu - Bead Supplies: Wholesale Beads Catalogue
For Wholesale Bead Stores, Patterns, Crafts and Beaded Jewelry Making Shops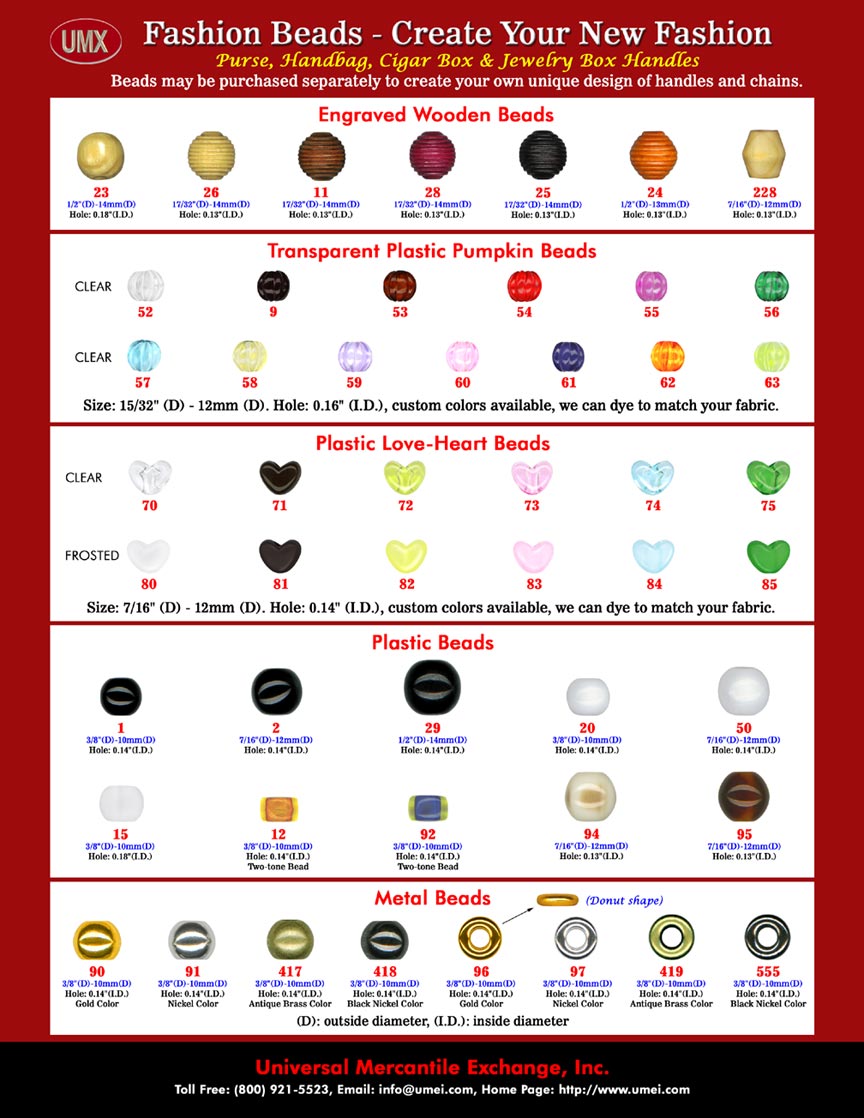 Our metal beads come with gold, nickel ( silver ), antique brass and black nickel colors available.
<click to enlarge Wholesale Beads Catalogue: Engraved Wood, Wooden, Love-Heart, Pumpkin, Metal and Clear Plastic Glass Beads >
Main Menu - Bead Supply For wholesale Bead Store, Patterns, Crafts and Beaded Jewelry Making Shop
Beaded Handles Main - Menu: How To Use Beads To Make Handbags, Bags, Designer Handbag, Purses, Cigar Box Purse, Box Purse,
Cigar Purse, Cigar Box, Jewelry Boxes and Wooden Box Beaded Handle:
Purse and Handbag Making Supply Beading Instructions

Main menu - Fashion Handbag Handle, Purse Handle Series
Main menu - Purse Frame & Handbag Frame Series
HOME, Magnetic Snaps, Purse Feet and Handbag Feet, Handbag Hooks and Purse Hooks, Purse Chain & Handbag Chains, Bamboo Toggle Buttons, PRICING
Catalogue1, HH-P4xx-1~22, HH-P4xx-23~46, HH-P4xx-47~92, HH-P4xx-180~216, Pumpkin-Beads-Series, Love-Heart-Series, Wooden-Beads-Series, Bare-Beaded-Handle-Frames
---
Order Hot Line Call: 1- (800) 921-5523

Contact UMX: info@umei.com